Mudpuppy Studios is no longer located in Fort Smith, Arkansas. We have picked up the pieces and moved to Antigua, Guatemala. Look for new work from Mudpuppy Pottery here in Guatemala in the near future.
His clay work is noted for his very thin throwing & amazing glazes. He teaches pottery classes for adults and children in his studio. Peter is a member of the "Arkansas Craft Guild" and is Secretary of the new "Fort Smith Regional Art Museum." Peter was accorded the title of Arkansas Living Treasure, 2010
Thin walled pieces and amazing glaze colors are what makes Peters' Pottery in demand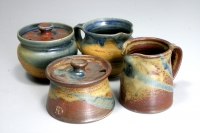 If you are interested in purchasing some of Peters' Pottery he will be at the following shows.
There are no upcoming events to display at this time.